I loved bees since way before I started
Honeybee Alley
. That's why I chose the name. Lately I've been especially drawn to clothing with bee designs on them.
I fell in love with this top at the University District Street Fair but I didn't have money for it then. I bought it two months ago and I am so glad that I did! I've been wearing it at least once a week since it arrived. It's so soft and wonderful and from
a fellow Etsy seller
(and did I mention that it's super soft?!). She makes all kinds of great clothing and pillows and bags.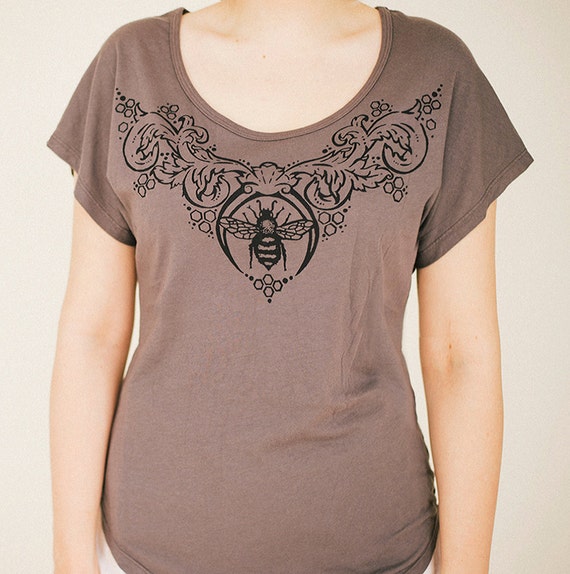 Here's a better photo of it, from the listing.
And then I just had to get
these socks
from Amazon, because I loved them and there were only four pairs left, and the bee's knees puns basically write themselves. They're too warm to wear yet but I will be getting a lot of wear out of them in the fall, and winter, and spring.
Because I love bees so much I've been donating 10% of my Etsy profits to
Save the Honeybee Foundation
this year. I've also been including a bee-shaped piece of seed paper in every order.
Do you want to know a secret? I love honeybees so much but I just think bumblebees are way cuter. They're all fuzzy and clumsy and adorable. When I was growing up and playing outside I would name all of the bumblebees Mr. Bumbles and watch them bumbling around in the yard. But don't tell the honeybees!